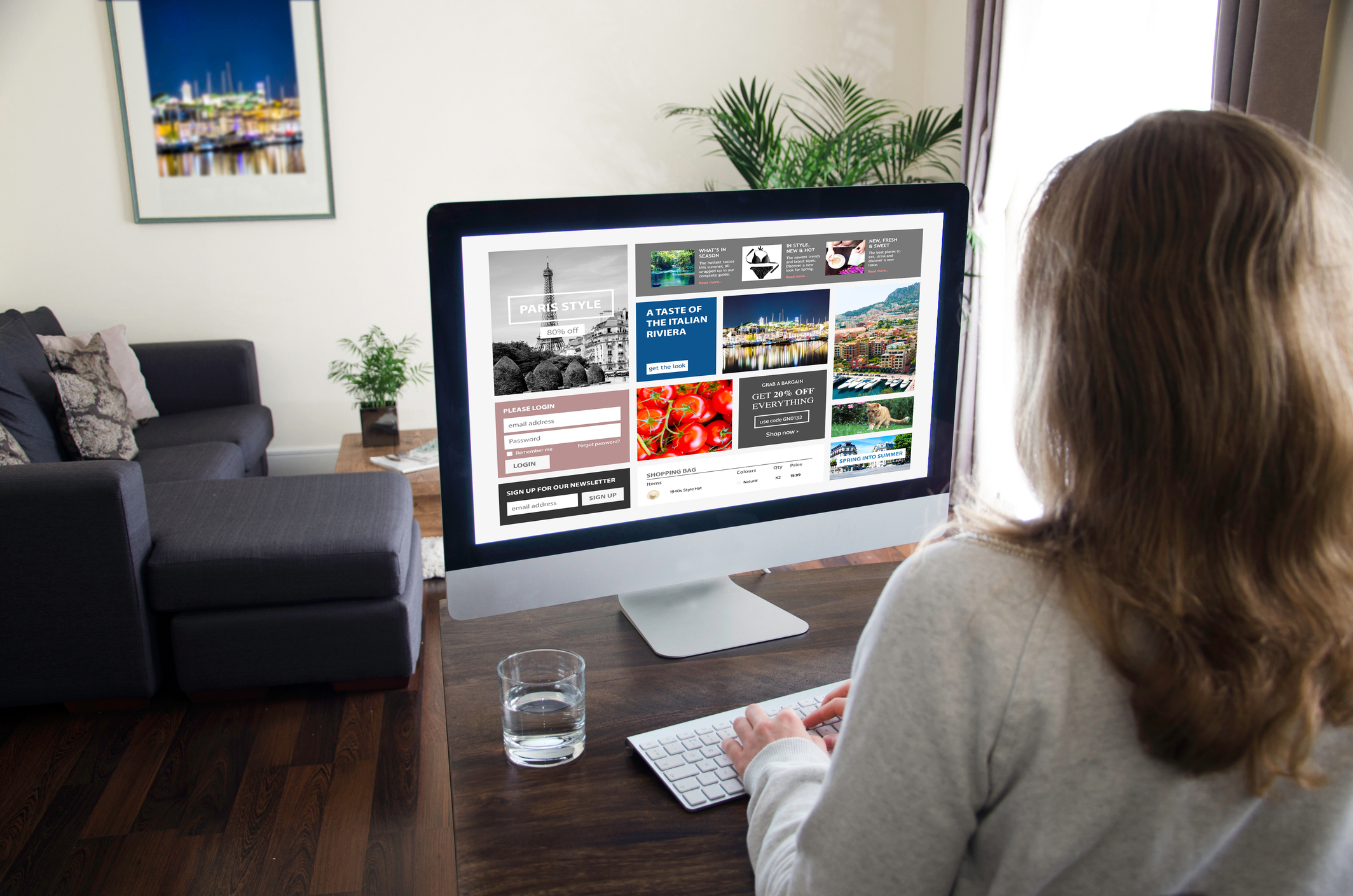 How to Create an Impressive ePortfolio
After spending countless hours on projects, reports, and pieces, don't just let them sit on your computer never to be seen again. Take your best projects and use them to create an impressive ePortfolio that will WOW employers and clients!
Post Date:
Tuesday, September 14, 2021
You've probably heard the expression show and tell plenty of times before while growing up. Well, the same saying applies to professionals. After years of studying and gaining experience, whether that be in college, graduate school, or work, it's important to showcase your talent and let others know what you're capable of. 
In an age when everything can easily be shared online, an ePortfolio is a great way to highlight your projects and make yourself visible. 
Who should have an ePortfolio?
Regardless of if you work as a UI/UX designer, a computer scientist, or a civil engineer, you should have an ePortfolio. Think about how many people out there do the exact same thing you do, and are applying to the exact same positions as you. Creating an ePortfolio can help you stand out from the crowd, and show potential employers or clients why they should hire your expertise.
Although everyone can benefit from the advantages of creating an ePortfolio, here are some careers where a portfolio website is critical to have:
Graphic designers

Architects

Engineers

Web developers/designers 

Writers

Artists

Photographers and videographers 

Advertisers

Digital media content creators   
What type of work should you include?
There is a common misconception that only those who have "visual" or "creative" work can have a portfolio. Professionals who fall into the category of "non-visual" work may even be confused as to what they can include in their portfolio. The truth is, for career paths that aren't focused around visuals, having a site to display your work is still beneficial. Employers want to know what you have accomplished, and be sure you're committed to your area of interest.
Those who don't have visual representation of their skills, and those who do, should absolutely consider incorporating the following examples into their ePortfolio:   
Resume

Work samples

Budgets

Research

Presentations

Case studies

Lab reports

Certifications

Awards
How to create an impressive ePortfolio
If everyone is creating an ePortfolio, how do you get noticed? This is a frequently asked question that many professionals ponder. The whole purpose of a portfolio website is to have your work and credentials gathered in one place for employers and clients to see. Getting your ePortfolio out there is the hard part, but there are steps you can take to enhance it. Check out these tips for some inspiration: 
1) Keep it simple
Don't overcomplicate it! While you might think having a website that includes dozens of clickable buttons and features will make your portfolio seem cutting edge, it can actually be overwhelming for the viewer. Remember to keep it user friendly and easy to navigate. For organization, create tabs at the top that clearly state what can be found in each section, along with brief explanations or introductions of each project. 
Don't forget that presentation matters as well. Choose colors that aren't distracting, along with readable fonts that are consistent on each page. If you're unsure about the accessibility of your information, file download, or designs, send the link to a friend or family member and ask them if they can easily navigate and read all the information. 
2) Show your personality
Employers and clients want to know you as well as your work. Express yourself through the colors, fonts, and photos you choose. Make sure not to go overboard with it, but feel free to add design elements that are uniquely you! In your "about" section, consider adding a fun fact about yourself, your favorite quote, or maybe include what you enjoy doing in your free-time.  
3) Think about quality over quantity
Sometimes less is more. Having 30 pieces of work in your portfolio means nothing if they aren't substantial. Don't include every single project you've ever done just for the sake of filling up space. Only showcase your strongest pieces that you think best demonstrate your skills. 
Put yourself in the shoes of those you're trying to appeal to — employers and clients are only going to spend a few minutes on your page. Get the most out of their time by highlighting your top projects.
4) Highlight your versatility
Along with showcasing only your strongest pieces, you should also ensure they're your most distinguished and creative ones. Choosing unique samples from various courses, jobs, and even industries lets clients know you're versatile when it comes to the types of projects you can do. Using these pieces will also help differentiate you from others who do similar work. 
You could also decide to include "behind the scenes" images or videos to further establish your unique process. Show everyone that you're passionate about creating new and innovative ways to design, develop, test products and projects.   
5) Include testimonials
Providing testimonials and valuable references can add more weight to your skills by proving your work is authentic and top-quality. Employers won't have to rely only on your word and displayed projects, they can read what others have to say about your work. This adds an extra layer of trust and reassurance that you aren't some random imposter.
Ask your previous clients, mentors, or colleagues to write a short review of your work. You also have options regarding how you wish to use the review. Either pull a quote directly from the testimonial, use it with a photo, or post the entire reference. It's completely up to you!     
6) Keep it professional 
At the end of the day, your ePortfolio is meant to be a professional tool that you can share with potential employers, organizations, and clients. You have the freedom to create something beautiful that you're proud of. If you're not happy with the work or the design, don't send it out. ePortfolios are ultimately there to assist in advancing your career and spreading awareness of your personal brand.     
What sites can you use to put it together?
Not everyone is tech-savvy and that's alright. If you prefer a challenge and feel comfortable creating a website from scratch, go for it! This is another excellent way to show off your technical skills. For those who may not have experience with developing a brand new site, there are plenty of online templates to choose from including: 
Build your ePortfolio with NJIT
Expand beyond the typical information that a resume and cover letter can show with an ePortfolio that highlights your strongest skills. Having the ability to show your work during interviews and when being considered for a job can positively impact how the employer views your potential. 

If you're still building skills, gaining experience, and thinking of new ways you can improve your knowledge, consider an online master's degree program at NJIT. When you earn your master's degree online, you'll have the chance to complete projects, participate in internships, and grasp new concepts — use these new pieces to create an astonishing ePortfolio. Apply now to get started on creating or polishing up your portfolio website.