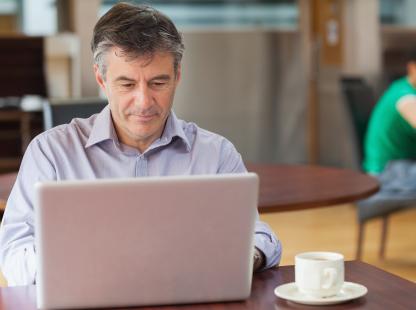 Student FAQs
Frequently asked questions and answers for students.
NJIT Online graduate courses follow a similar format to those that are held in person: they are led by a faculty member who is an expert in the field, utilize textbooks, and often require homework, class participation, and exams.
NJIT Online courses take place in the Canvas open-source online learning platform in an asynchronous fashion. Registered online students log on to Canvas using a NJIT-issued id and password to access lessons, participate in discussion forums, upload assignments, take tests and quizzes, and more.
While deadlines tend to be scheduled weekly, some courses may require participation in live online discussions or events, and group work may require meetings with classmates outside of the course.​
Students should have access to a computer with access to the Internet. In some cases, an instructor may use proctoring for their online course in which case a computer with a microphone and webcam is required.
Students can expect access to their course by the first day of classes as listed in the NJIT Academic Calendar. Unless noted otherwise, online courses use the same academic calendar as NJIT on-campus courses.
At a minimum, NJIT Online students should know how to send and receive email, attach a file to an email, and use a web browser and word processor. As a technical school, many of our courses and programs will require additional technical and computer skills to meet course requirements. Please check with your program advisor or course instructor with any concerns.
Asynchronous learning is a flexible approach to education that allows students to learn at their own pace and on their own schedule. Unlike traditional classroom settings, asynchronous learning enables students to access course materials, lectures, and assignments online and complete them on their own time without the constraints of a fixed schedule or location.
Online describes courses in which all course activities can be completed online through the learning management system. There are no required face-to-face sessions but students are expected to follow a week-by-week schedule as outlined in the syllabus. Work is typically done in an asynchronous mode and students can complete the coursework without coming to campus. Note: NJIT policy requires online students registered for a fully online course section must be given the option to take their exam in a completely online format, with appropriate proctoring.​

For more information, please visit the NJIT Modes of Delivery web page.
Online courses have the same outcomes as on-campus courses. There is no difference between the difficulty of an online course and a face-to-face course.
Instructors may deploy exams in Canvas using the quiz tool. For academic integrity purposes, an instructor may use one of two methods:​
ProctorU - a live online proctoring service that verifies a student's identity by asking the student to show an ID before taking the exam.​
Respondus Monitor - an asynchronous online exam monitoring software that asks for students to share their ID before taking an exam. Respondus Monitor exams are recorded via webcam in a secure browser for instructors to review.
Both of these services require that the student has a functioning webcam while taking the exam.
Online courses are not for everyone. Students taking an online course must be self-motivated, good time managers, and capable of working independently.
Regular participation in an online course is a required component. Students are expected to communicate with their instructor and classmates in an online environment. Students should expect to participate on a weekly basis through online discussion boards.
For academic questions regarding the course, please contact your instructor.
An orientation for students is available in Canvas.
For technical issues, please contact the IST Service Desk.