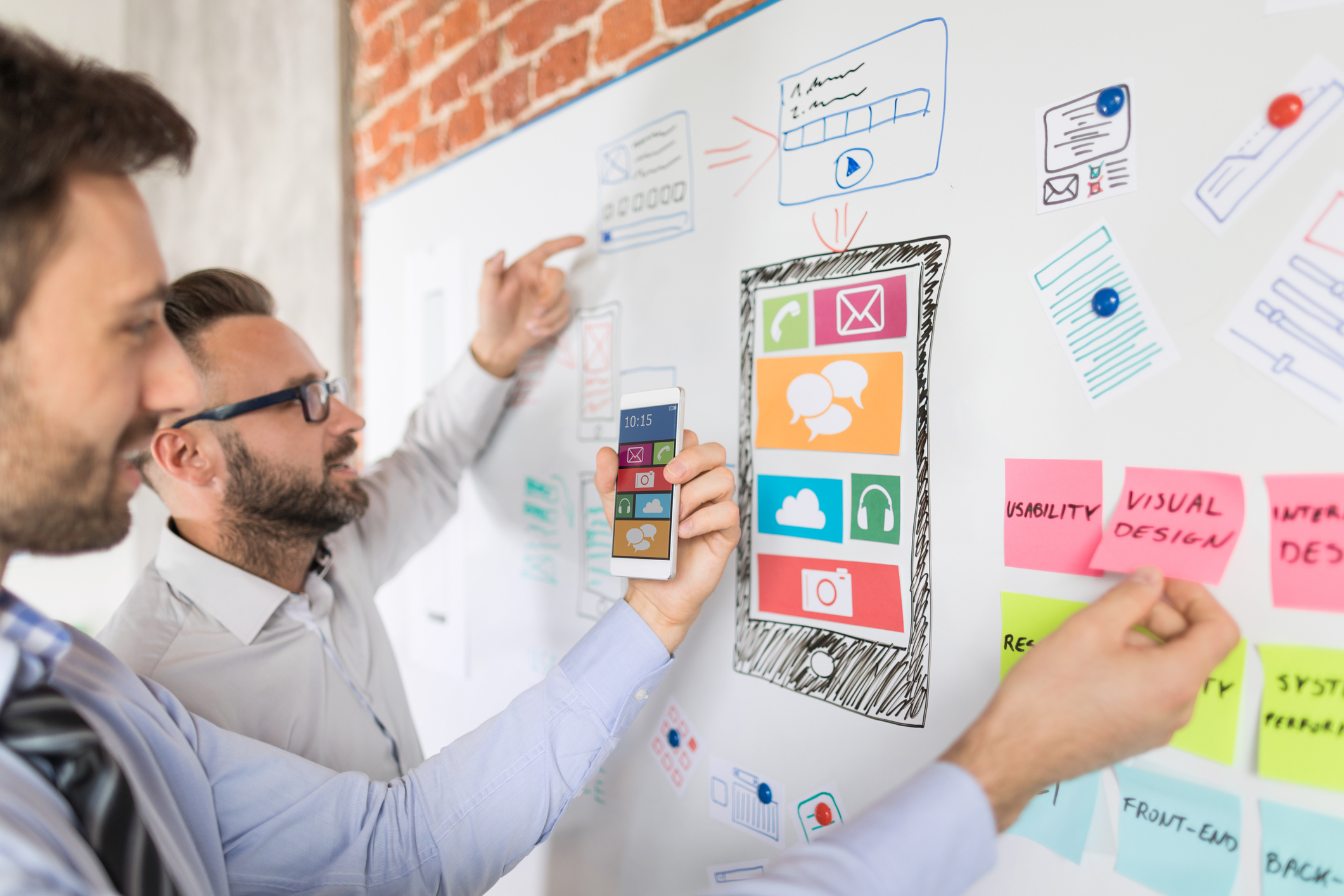 5 Steps to Become a UI/UX designer
From the way a user finds the exact page they're looking for on a site, to how they feel once they've accomplished their task, UI/UX designers think of it all. A career in UI/UX gives you the chance to think like a customer, and create apps and sites focused on giving them a great experience
Post Date:
Tuesday, August 31, 2021
Imagine yourself opening your phone, going to your favorite brand's site, and purchasing a product. Believe it or not, everything about your experience in the time it takes you to go to the site and hit "purchase" falls under the category of user interface (UI)/ user experience (UX). 
Websites are designed in a way that makes the user feel excited with the goal to push them through to that final action. If you have a knack for digital design, you may want to consider a career as a UI/UX designer. 
Because of the advancements in technology, many organizations and businesses have turned to creating and maintaining an online presence. This in turn increased the demand for UI/UX designers, making it one of the top 5 in-demand skills, as well as rated one of the best 50 jobs in 2021. The average UI/UX designer salary is around $75,000, making it a great return on investment (ROI) as well if you choose to earn your user experience design certificate.   
What is UI/UX?
If you've heard the term UI/UX before, you may be surprised to hear that they are actually two separate things. To make it easier to understand, let's start with explaining what UI is. User interface refers to anything a user may interact while spending time online to use a digital service, or purchase a product. When focusing on UI, think of the following aspects:
Desktop and laptop screens

Touchscreens 

Keyboards

Sounds/audio

Lights

Visuals
Once the UI of a website is completed and there is something there for the user to see and interact with, it's time for UX to step in. User experience does just that, it focuses on the experience of the consumer and how they feel while using the digital service. UX refers to the following:
Overall impressions after visiting the website or using the digital service 

The sequence of actions users take to accomplish their task 

The ease of finding a product on the company's interface 

What thoughts and feelings the user experiences while interacting with the site
UI and UX work hand-in-hand with each other to make a successful digital experience that produces results – you can't have one without the other. 
What skills do you need to be a UI/UX designer?
You might be wondering what skills you will be learning during a graduate certificate program, or maybe what the most important UI/UX skills are. Check out this list of the most crucial skills you should master to become a UI/UX designer:
User testing and research

Wireframing and prototyping 

User flow

Mockups

Proficiency in design software and visual design tools

Information architecture 

Applications development 

Empathy 

Critical thinking 

Communications 

Time management 

Problem solving
Pursuing a graduate certificate in UI/UX from an accredited university will help you develop these skills while giving you the time and ability to practice them. Consider earning your UI/UX digital design essentials graduate certificate from NJIT – each course is carefully put together to ensure you'll learn the essential skills needed for success in UI/UX design.  
5 Steps to become a UI/UX designer
Becoming a UX designer or UI developer can take some time and definitely practice. To make sure you have all the necessary skills and knowledge to prepare you for success in your UI/UX career, follow these steps:
1) Choose a design career path
As previously mentioned, there is a difference between UI and UX and most of it has to do with the type of design you're doing. If you're unsure which path is right for you, consider the areas you're most interested in. 
If you have a high level of empathy and are able to recognize a problem and understand it from another's perspective, becoming a UX designer might be a good fit. You should also enjoy creating sequences that promote accessibility and ease of function. 
Not everyone who wants to go into UI/UX handles the thoughts and emotions a user has when interacting with the interface. If you're enthusiastic about obsessing over details, colors, and the overall visual aspect of a site, becoming a UI developer may be in your future. 
Once you have a better idea of which design career path would be the best fit for you, you can begin to gain experience, skills, and knowledge within that area.   
2) Enroll in a graduate certificate program
When it comes to learning, there is nothing better than education. One of the best ways to learn or advance your UI/UX skills is to earn your graduate certificate online or in-person. Enrolling in a UI/UX graduate certificate program allows you to build your foundational skills, practice them, and develop a deep understanding of core concepts.
The great thing about graduate certificates is that many can be completely virtually. Online graduate certificate programs give you the chance to advance your skills while working full time or tending to family responsibilities. You won't have to press pause on your current life to pursue your dream job. 
At NJIT, for example, you can earn your graduate certificate in UI/UX digital design essentials from the comfort of your own home, and on your own time. The UI/UX design courses will give you a total of 12 credits upon completion, which you can even stack with other certificates toward a graduate degree in digital design. 
3) Volunteer your skills or find internships
Trying to get your foot in the door can be difficult when you are just starting out with minimal or no experience. However, this shouldn't discourage or stop you from gaining more hands-on experience. If you're willing to volunteer your time, design skills, and knowledge, there are a myriad of organizations that would love to work with you. 
To find a volunteer opportunity, look for non-profit organizations, charities, or small businesses, and reach out to them. If you don't have one in mind, consider using platforms such as VolunteerMatch for more opportunities. 
Along with volunteering, another great way to make valuable networking connections and gain experience is by doing an internship. Internships are a strategic way to apply what you're learning in class to the real-world, while under the guidance of a professional. Keep in mind that every internship is different – some may be paid, others may offer a travel stipend or college credit as a form of compensation.
4) Build a portfolio 
When applying to jobs, the hiring manager will without a doubt want to see a portfolio of your previous projects and work. As you go through school, complete your graduate certificate, and gain experience through internships and volunteer opportunities, build your portfolio to keep everything in one place.
One of the first things you should do for your portfolio is decide how to present it – a digital portfolio is an excellent way to easily share your work with hiring managers. Focus on projects that demonstrate your highest skills as a designer and show your strong digital capabilities. Don't worry about putting every single project on there – choose ones that showcase your unique perspective that help you stand out.
5) Prepare for interviews 
Preparing for interviews can be a scary and intimidating process. Chances are, you'll be nervous and maybe even begin to second guess yourself. Instead of thinking about what might go wrong, let your work speak for itself. Use the knowledge and concepts you learned from your UI/UX courses to guide you through your interview, and pull answers from your real-world experience. 
When you're confident in yourself and your skills, the hiring manager will be able to see how passionate you are about UI/UX design, and get a better sense of how you will fit in with their team. 
Take your UI/UX skills to the next level with NJIT
Choosing a career as a UI/UX designer can be filled with many rewarding, challenging, and exciting experiences. You'll have the opportunity to combine strong design skills with the ability to relate to the user to create something that users enjoy and organizations appreciate. 
Because so many businesses and companies are turning to digital services to boost their brand awareness and sales, UI/UX designers are in high demand. Now is the time to advance and develop your skills so you can begin your career in UI/UX. 

NJIT's graduate certificate program in User Interface/ User Experience Design Essentials can enhance your knowledge, skills, and tools that will help you land your dream UI/UX job – apply now to get started!