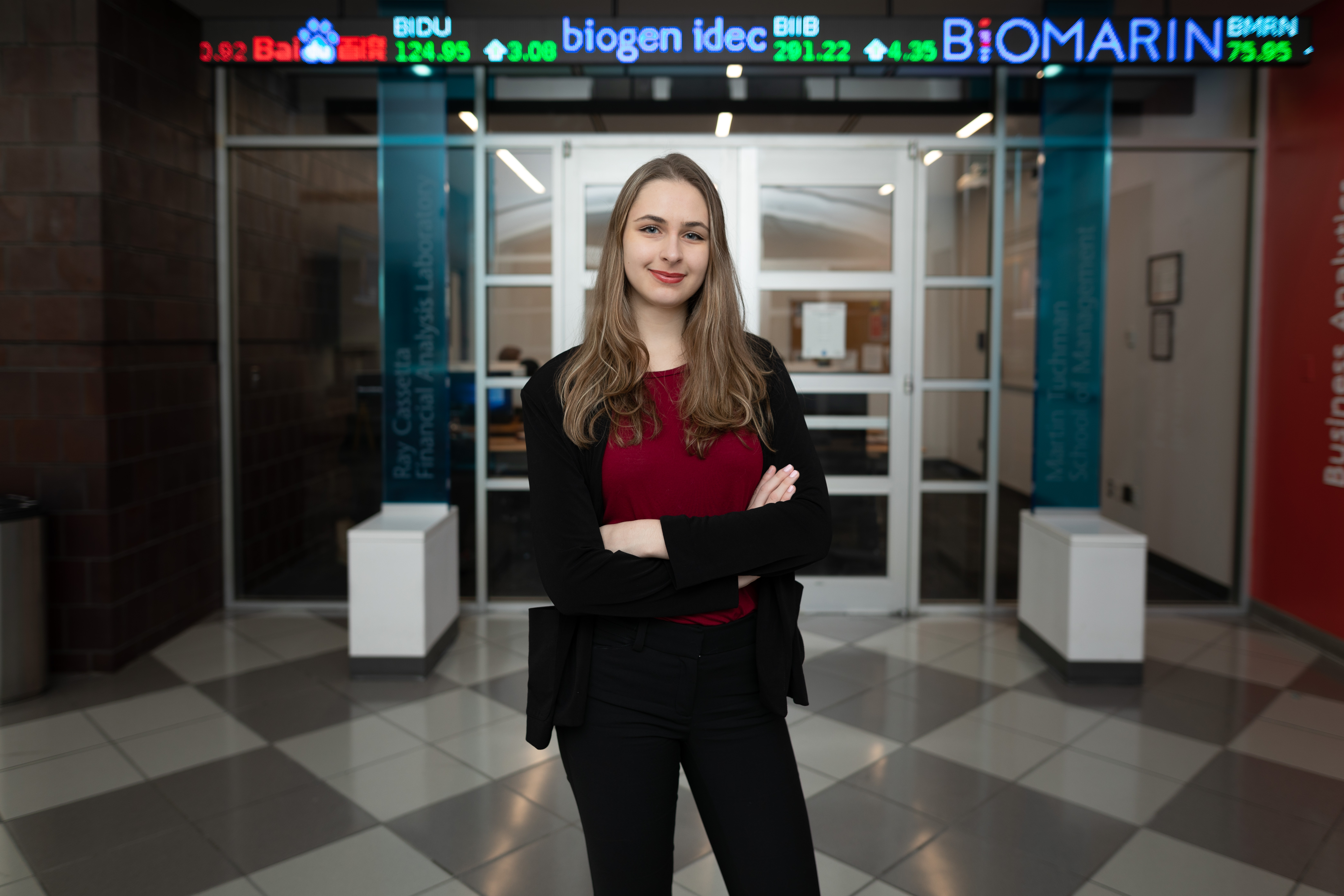 10 Tips to Ace Your Next Interview
Whether you just started your graduate degree program, or are about to graduate, chances are you're getting ready to begin applying for jobs. Ease the stress and anxiety that comes along with a job interview by setting yourself up for success with these tips!
Post Date:
Tuesday, January 11, 2022
If there is one thing all graduate students have in common, it's interviewing for a job. Chances are a full-time position won't just be handed to you the minute you receive your diploma. Instead, you'll likely spend weeks, if not months, searching for a job. Aside from having a strong resume, cover letter, and portfolio, one of the most important parts of the application process is the interview. 
For some, an interview can seem like a daunting task. However, it's beneficial to point out that a job interview goes both ways. While the employer is interviewing you, you're also interviewing them. Thinking about it this way may help alleviate some of the anxiety that comes with the process. Additionally, it is crucial that you show up to your interview on-time and prepared. But that isn't all. There are many steps you can take to ensure your interview goes smoothly and you leave feeling confident. 
10 Tips to ace your next interview
Is your very first interview coming? Are you thinking about how to prepare for a job interview? Are you trying to find ways to ease the stress of the interview process? Well if so, you're in luck. Check out these tips to help you ace your interview and move your career forward:
1) Research the company you're interviewing for
First impressions are crucial — show hiring managers that you're excited and passionate about the company by doing your research prior to the interview. Familiarize yourself with the company's goals, mission statement, website, recent achievements, and history. This will help you strategically answer questions by demonstrating that you will bring value to the role in a way that aligns with their company's missions and culture. Hiring managers will also know that you've taken the time to do this research to truly convey your interest in the company.   
2) Review the job description
After you're offered an interview slot, make sure to review the job description so you have a good understanding of the position's main responsibilities and roles. By doing so, you can tailor the discussion to specific traits and abilities that the job description mentioned. When reading the posting, pick out keywords such as required experience and skills to focus on during the interview. 
You should also take some time to consider how your previous experience, knowledge, and skills will benefit the company in this role. Show the hiring team what unique traits you can bring to the position. 
3) Study your resume and know it well
While you may be thinking to yourself, "well I wrote my resume. I won't forget my previous experiences," you don't want to be caught off guard with those unexpected questions regarding your work history. Everything you put on your resume is fair game for the hiring team to ask you about. Remember, you're trying to convince the hiring manager that you're the best candidate for the position. In doing so, you need to eloquently verbalize previous experiences and discuss what worked, how you handled challenges and in what ways you showed leadership abilities. 
If you're unsure about your resume and what should be included, check out the career center at your university. NJIT Career Development Services provide a myriad of resources to help critique and improve your resume to set you up for success. 
4) Practice answering interview questions
The keyword here is practice! Some people, especially when nervous or excited, will try to memorize their answers to common interview questions. However, this can lead to you sounding robotic and stiff. The hiring team wants to see your personality and not just listen to you read a script. 
To help you get started, do some research and read some of the most common interview questions. Have a friend or family member ask you these questions so you can practice answering in front of someone. If you'd rather do it alone, consider recording yourself on your computer so you can play it back. This gives you insight into how quickly you're speaking, your use of filler words such as "like" and "um", and where you're looking. 
You should also be prepared to answer more than just one type of question. While you can certainly expect to be asked questions regarding why you're interested in the position and what you can bring to the table, you may be asked specific scenario questions or specific questions about how you handled projects in the past. Those "what would you do to…" and "what did you do when…" questions are a great way to show the hiring team you can think on the spot and provide an intelligent answer.   
5) Display your skills with detailed examples
At some point during the interview you'll most likely be asked to describe what you do in your current job, or discuss results from past positions. When responding to these questions, avoid giving vague answers. Provide concrete evidence that you led a successful campaign, or improved performance through measurable results. Another way to ace your interview is by coming up with solid ideas that you would plan to execute when you take the position. 
6) Ask questions at the end 
Toward the end of the interview, the hiring team typically gives you the opportunity to ask any questions you may have — and yes, you should have questions prepared. Asking questions at the end shows you're interested and enthusiastic about the chance to join the team. You also want to use this opportunity to ask questions that can help you decide if the position is a good fit for you. Maybe you want to ask if the position is more of a team role or individual one, or find out more about the company's culture. 
You could even put your interviewer on the spot by asking, "What hesitations do you have about me that may prevent me from moving forward in the interview process?" This is a great one because you'll receive valuable feedback from the hiring manager, and will also have the ability to address any concerns or objections they may have.
7) Dress appropriately and professionally
Since first impressions are critical, dressing appropriately demonstrates that you're putting time, effort, and thought into the interview. You want to show up well groomed and wearing business or business casual attire. Avoid wearing anything too bright, flashy, or covered with distracting patterns. Your clothing should also be comfortable so you're not tempted to rush the interview because all you can think about is changing into sweatpants.
Nowadays, many interviews are being conducted virtually via webcam. If this is the case for you, although you don't have to leave your home, you still need to dress for success. Treat a virtual interview the same way as you would for one in-person. By dressing head to toe in professional attire, you'll look the part and also get into the mindset of a successful job interview.   
8) Check your body language
Being nervous and anxious during an interview is completely normal, but you'll still want to keep an eye out for nervous habits. Many job interviewers have tell-tale signs of being anxious such as biting nails, twirling hair, and biting your lips. Although showing small signs of nerves isn't a problem, you want to display confidence. 
While showing nerves by fidgeting is one extreme, some people go the complete opposite way by sitting too stiffly. When you're having a conversation without moving at all you may come off as overly stiff. This can make others feel uncomfortable as it doesn't look natural. Be yourself and talk with your hands if that's what you typically do. You want the hiring team to feel that you are someone they can have a conversation with.
The last body language mistake is putting up blockades. Whether you're doing so due to overconfidence or unintentionally, you should be aware of it. Crossing your arms, hunching over, leaning back, or having something in between you and the hiring manager can be problematic. This type of behavior is often associated with an unwillingness to collaborate or connect with others. The hiring manager may pick up a signal that you're closed-off to new ideas and inflexible.  
9) Prepare an interview tool kit
It's never a bad idea to create an interview tool kit so you know that you're always prepared with the basics. Your tool kit can include things like a water bottle, a notepad, pens and pencils, tissues, lip balm, and eye drops. You may also want to either print out directions to the location of the interview, or pre-set it in your GPS. 
10) Follow up after the interview
Immediately after the interview or within 24 hours, send an email to each member of the hiring team to increase your chances of being considered for the position. The practice of sending a thank you message to the team is a great habit to make. This simple action shows that you value their time. Express your gratitude for the time they took to interview you, reiterate your interest in the position, and highlight some key takeaways from the interview.
To make the email a bit more unique, include something that was mentioned during the interview that you may have bonded over, or follow up to a specific question or challenge the hiring manager presented. Remember to keep the email clear and concise, and always show your enthusiasm for the company.  
Prepare for success with NJIT
In today's highly competitive business landscape, standing out from the crowd is pivotal when it comes to interviewing. You never know just how many other candidates are being considered, and what type of background they have. 

Impress the hiring manager with your credentials and commitment to your field of interest with a graduate degree or graduate certificate from NJIT. You'll gain valuable skills and knowledge that will help prepare you for your professional career — apply today to take advantage of all that NJIT has to offer!  
Tagged: