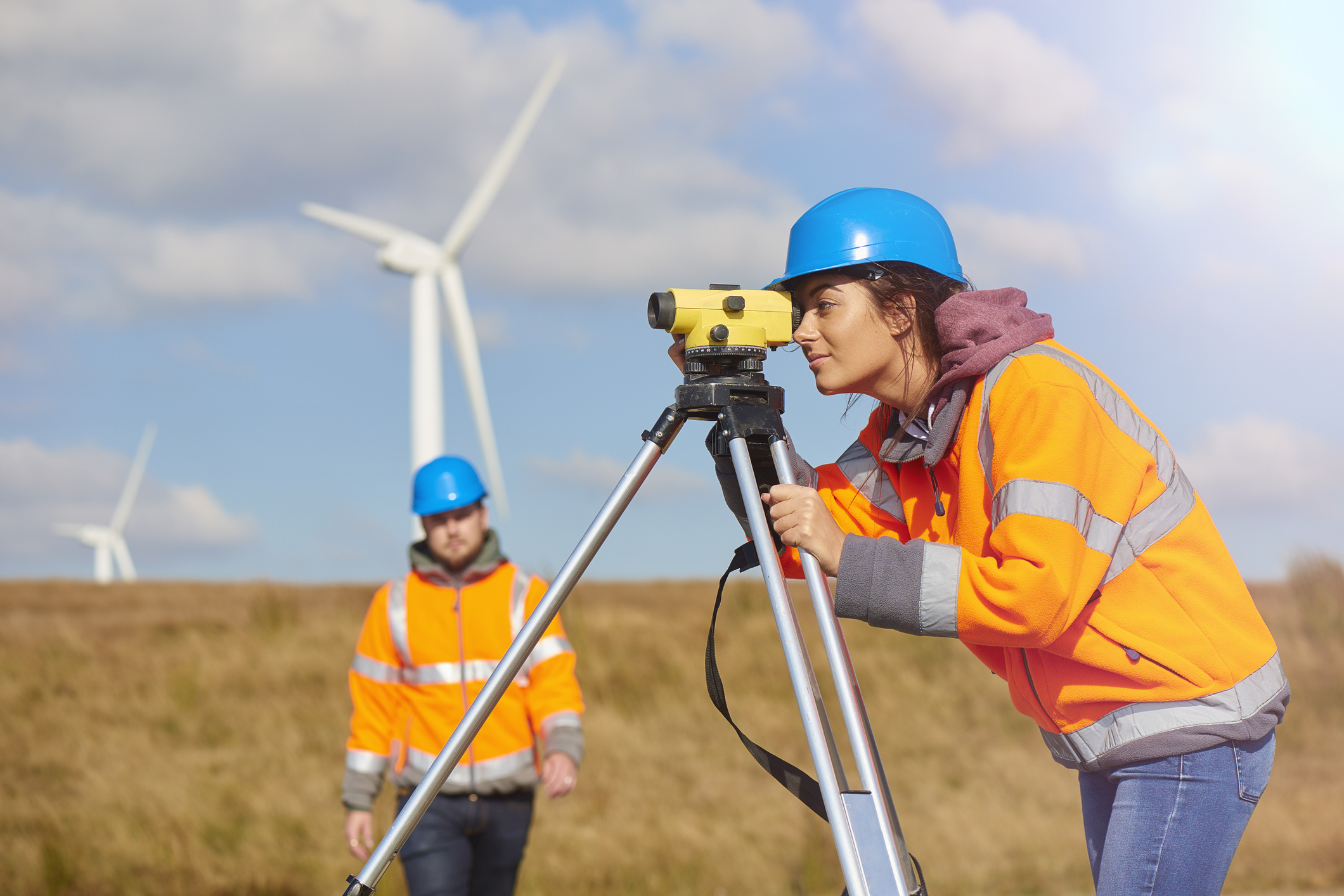 What Can You Do with a Masters in Civil Engineering?
Looking for a jack-of-all-trades engineering career? Civil engineering may just fit the bill. From designing roadways in a busy city to climbing to the top of bridges for safety checks, civil engineers do it all. Find out more about what a master's degree in civil engineering can do in this article.
Post Date:
Thursday, August 19, 2021
If you've ever cruised down the highway in a sports car, flew out of a lavish airport for a thrilling adventure, or crossed a bridge to visit family, you can thank a civil engineer. This versatile engineering profession is crucial for many creations used in everyday life.
As a civil engineer, you won't just be solving problems that affect millions of lives, but you'll have the opportunity to leave your mark on the world.  
When choosing the civil engineering career path, many students ask themselves, "is a master's degree in civil engineering worth it?". While there's no short answer, there are factors that can help you determine whether you want to pursue a masters in civil engineering. Keep reading to find out more about what a civil engineer does, and what kind of job you can do with a master's degree. 
What does a civil engineer do?
The better question is, what doesn't a civil engineer do? The world wouldn't function without the critical infrastructure developed and built by civil engineers. These professional engineers work closely with architects to design, plan, and construct bridges, airports, tunnels, roads, buildings, dams, and much more. Some of the main responsibilities of a civil engineer are: 
Plan and strategize various aspect of projects

Use computer-aided design (CAD) software

Determine specifications for projects and monitor project sites for safety norms

Create budgets based on labor and equipment costs

Ensure compliance with environmental regulations

Create and present reports and proposals for projects 

Perform safety tests on materials and soils to determine the adequacy and strength of foundations  
What can I do with a masters in civil engineering?
When you decide to pursue a masters in civil engineering, you'll be setting yourself up for success in a wide variety of career opportunities. You even have the ability to earn your graduate degree fully online. Take a look at some of the careers you can do once you complete an online master's program:
1) Structural engineer
Buildings, bridges, and tunnels all have to be built in a certain way to ensure they're safe, sustainable, economical, and reliable — this is where structural engineers come in. Those who choose to specialize in structural engineering are responsible for the physical integrity and design of these structures. 
These professionals must take into account environmental factors that could harm the structure, as well as the safety of those who come into contact with it. Structural engineers are typically highly skilled in math and physics to design structures that are sturdy and able to withstand heavy usage. 
2) Project manager
Leaders in the position of project manager oversee all technical components of project execution. In other words, they are responsible for managing the design, development, installation of equipment and systems, cost and timeline, and the project's scope as a whole. 
Project managers must understand all the work being done on the project to provide strategic decision making skills, know how to problem solve, and how to effectively communicate with the engineering team. 
3) Transportation engineer
Transportation engineers concentrate on the infrastructure, design, and development of anything relating to transportation. Those in this role analyze the needs within transportation, and create efficient and effective ways to build various transport systems. These engineers may conduct research for and work with railroads, airports, bridges, highways, seaports, waterways, and traffic control systems. 
A transportation engineer might be tasked with determining the fastest and safest way to transport goods and people, maintaining traffic flow and preventing congestion, selecting the appropriate materials for construction of infrastructures, and ensuring that all projects comply with state and federal construction policies. 
4) Environmental engineer
It's no secret that the environment is being polluted with chemicals and other hazardous substances. If you're passionate about helping the environment and making it a cleaner world to live in, environmental engineering may bring you a lot of satisfaction. These professional engineers focus heavily on sustainability and work on projects geared toward protecting the natural environment.  
Environmental engineers use principles of engineering, soil science, chemistry, and biology to design projects and develop solutions to environmental problems. Some areas they may try to improve include, waste disposal, water and air pollution, energy saving, recycling, and public health. 
5) Design engineer
Design engineers work to advance the methods used to construct products by creating blueprints and models for manufacturing processes that will be tested and developed to improve product functionality. Those in this role may use computer-aided design (CAD) and computer-aided engineering (CAE) to design 3D models prior to execution of the finalized plan. Once a prototype is constructed, design engineers will then test their products to ensure they work properly and safely.    
6) Public works director 
This role combines the knowledge and skills of an engineer with the qualities and duties of a manager. The position of public works director is mainly administrative as the job requires proficiency in analyzing and assessing proposals, creating budgets, developing protocols on hiring contractors and vendors, monitoring staff and tracking progress on projects. 
Strong communication skills are a must! A public works director uses their technical background with engineering to communicate with those working on the design and construction of a project. They must also be able to communicate with those who are unfamiliar with complex technical terms.   
7) Geotechnical engineer
When a structure is built, one of the first things that has to be considered is the foundation. Geotechnical engineers investigate the subsurface geologic conditions by using rock and soil mechanics to determine the hazards and risks of any civil engineering project. Detailed soil investigations are conducted prior to any project start to ensure the foundation won't fail.
Transportation engineers and geotechnical engineers typically work closely together. These two types of professional engineers work with structures such as bridges, highways, railways, airport pavements, and roads.    
8) Construction site supervisor 
Construction site supervisors take their experience from working as an engineer and apply it to become great leaders. These individuals work closely with engineers, architects and subcontractors to develop budgets, estimated costs, work schedules, appropriate materials and proper construction methods. It is also the responsibility of the construction site supervisor to obtain any permits necessary for the project.
This role requires a number of leadership skills including problem solving, critical thinking, team-building and communication. A construction site supervisor must make sure everything is running smoothly, on-time, and on-budget. If there is a dispute between any of the workers or how a project is to be completed, the supervisor is there to take action.
Earn your master's degree in civil engineering online at NJIT 
A masters degree can help distinguish yourself from other candidates and make you more desirable. If you study civil engineering online from an ABET-accredited engineering program such as NJIT, you're not only gaining valuable skills and knowledge, but you may also be setting yourself up for a higher civil engineering salary. Because there is a demand for civil engineers across the globe, employers are willing to compensate you for your expertise. 

Students who earn their civil engineering degree online from NJIT are well prepared for employment. Graduates have earned their spots at widely recognized companies including PSE&G, Stantec, NJ Department of Transportation, Mott MacDonald and Banc3 Inc. Get started on your civil engineering journey and apply for the online master's degree program!