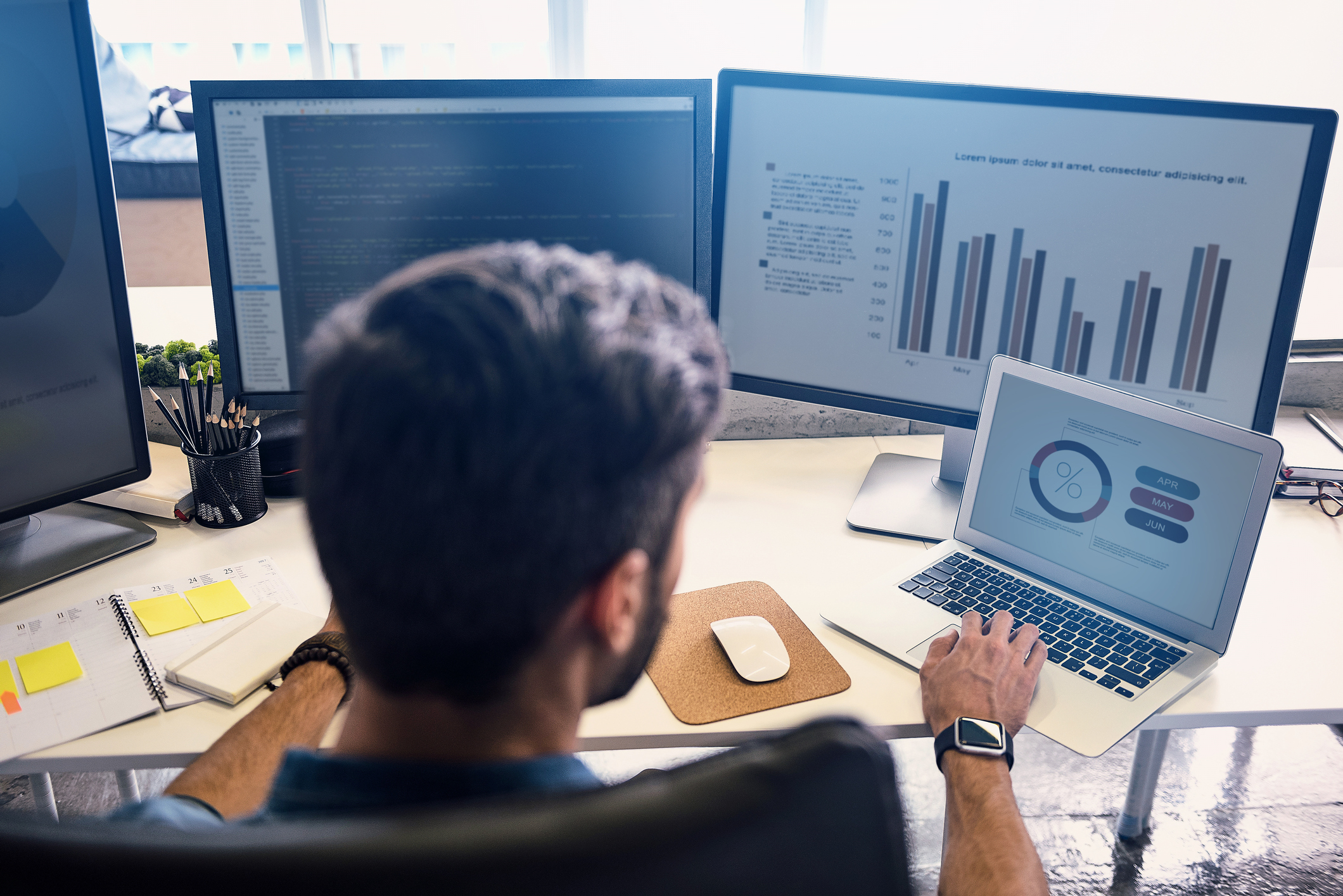 Is a Master's in Business Analytics Worth it?
Are you interested in exploring the different ways you can use data and technology to drive business decisions? If so, a masters in business analytics may be the perfect fit for you. Find out what a MS in Management is all about and whether or not it's worth it.
Post Date:
Thursday, August 26, 2021
More and more people are choosing to further their education by getting a master's degree in an area relevant to their field of study. For those interested in a career in business, you may be overwhelmed by the various degree choices out there. If you're looking to blend technical expertise with fundamental business training, you should consider getting a Master of Science in Management with a concentration in Business Analytics.
Deciding which program to enroll in is no easy task. Before you commit to any graduate degree program, it's important to do the research and make sure it will fulfill your goals. Keep reading for more information about a MS in Management and whether or not it's worth it for you.
What is business analytics?
Business analytics is the process of using data and technologies to drive business decisions and gain new insight into strategic thinking. When using business analytics, historical business data is processed and carefully analyzed to identify trends, patterns, and root causes. Once the data is examined, the business will be able to decide which datasets are most useful in terms of productivity, efficiency, and boosting revenue.  
Business analytics is unique in the way that it can be used to predict future consumer habits and market trends. Having this ability gives businesses an advantage over competitors who may struggle to run effectively and efficiently. Analyzing future trends means a business can make changes now to ensure they'll be equipped to handle the consumer demands that come later. 
Industries for those with a master's in business analytics
Similarly to an MBA degree program, an MS in Management with a concentration in business analytics is a versatile degree that can be used in a multitude of ways in countless industries. Some of the most common industries MS in Management graduates could work in include:
Cybersecurity 

Government

Hospitality

Media

Healthcare

Finance
Is a master's in business analytics worth it?
Everyone has their own reasoning behind the decision to pursue a master's degree in business analytics. For some, it's a strong interest in learning that draws them to the program, for others, it's the chance to grow in their field. If you're still trying to decide, take these benefits of an MS in Management into consideration: 
1) Opens up career opportunities
A master's in business analytics seamlessly blends business training with technical data analytics skills, making it a highly desirable degree to employers in industries across the board. You might not even realize how important data analytics are to healthcare, hospitality, retail, finance, and media – these data sets drive the strategic decisions made to increase productivity and revenue. 
Regardless of what industry you're interested in going into, an MS in Management can help you get there. You could work in roles such as a:
Marketing analyst

Data integrity analyst

Project manager

Information technology analyst

Business intelligence analyst

Data specialist

Investment analyst
2) Increases earning potential
Return on investment is typically on everyone's mind when considering graduate school. Well, it's no secret that those with a graduate business degree are in a position to negotiate a salary increase, or get offered a high starting salary to begin with. In fact, data scientist positions are not only in the top three best jobs in America for 2021, but they also have a median salary of over $110,000 annually. 
As previously mentioned, all industries can benefit from having a business analyst review data sets and help improve the company from a technical perspective. When you earn your master's degree in business analytics, you're mastering a very specific skill set that employers are willing to pay for. Companies want to hire someone who can take insights and strategically use them as an advantage.
Upon completing the MS in Management program, NJIT graduates earn an average salary between $70,000-$90,000 annually in positions such as IT Business analyst, Investment analyst, and IT Project manager.  
3) Gives you real-world experience
Throughout your undergraduate career, you probably were told to gain as much hands-on experience as possible through internships, courses, and other opportunities – the same can be said for your graduate career. When a hiring manager reviews your resume, they're not just looking for educational accomplishments and related credentials – they also highly value your experience in the real-world. 
While pursuing your master's in business analytics at NJIT, you'll have the chance to train in core areas in and out of the classroom. With dedicated career development counselors and professors to guide you through, you can complement your studies with an internship or co-op to put your new skills to use in real-world applications. 
4) Allows you to join a professional network
Whether you want to be a project manager for a fortune 500 company, or a data specialist for a higher education institution, the connections you make during your graduate program can help you secure your dream job. Through classes, projects, internships, and networking events with your school, you'll be introduced to people that make all the difference in your career. 
During your studies at NJIT, you'll make valuable connections with your fellow classmates, distinguished professors, and even alumni. These networking opportunities open up a whole new world of support both during the program and after graduation, industry connections, and an all together feeling of belonging to a greater community.  
5) Offers flexible learning options
Believe it or not, you can obtain your master's degree on your own time with courses that fit around your schedule when you learn business online. While the traditional way of earning a degree is through face-to-face classes, there are many advantages of online learning. 
Earning an MS in Management online allows you to continue working a full-time job, attend to family obligations, or manage other responsibilities all while taking courses. With the flexibility of online learning, you don't have to worry about commuting to and from campus, or being too tired after work to sit through a lecture. You can log on when it's convenient to you – just don't forget!
At NJIT for example, you can choose to take your classes completely online, in-person, or a mix of both for a hybrid experience. Regardless of how you take you courses, you can also concentrate in one of the following areas:
Financial technology

Business analytics

Global program management

Web systems

Media 
6) Helps advance your career and keeps you competitive 
While a master of science in business analytics can help those just starting out to land their first job, it can also be a game changer for professionals already working in the field. If you're wanting to move up into a director role or other leadership position, having advanced knowledge of technical language and qualitative data along with knowing exactly what to do with that information is crucial. 
The NJIT MS in Management program is designed to strengthen the data analytics skills of business orientated students. You'll learn skills and concepts within information system principles, applied statistics, data mining and analysis, global project management, decision analysis, and data driven financial modeling – stay competitive in an ever changing, technology driven world.       
Master your future with NJIT
Transforming data into actionable insights is a profitable skill that attracts employers in every industry. By earning your master of science in business analytics, you're separating yourself from other job candidates and proving to the hiring manager that you're experienced, committed to learning and growing, and can bring creative and analytical thinking to the company. 
When deciding if an MS in Management is right for you, make sure that the programs you're looking into offer not only technical courses, but also courses focused on the business side of data – management, consumer research, marketing, and finance.  

If you feel that you're ready to take the next step in mastering your future with a graduate degree in management, explore NJIT's master in business analytics program or apply today!