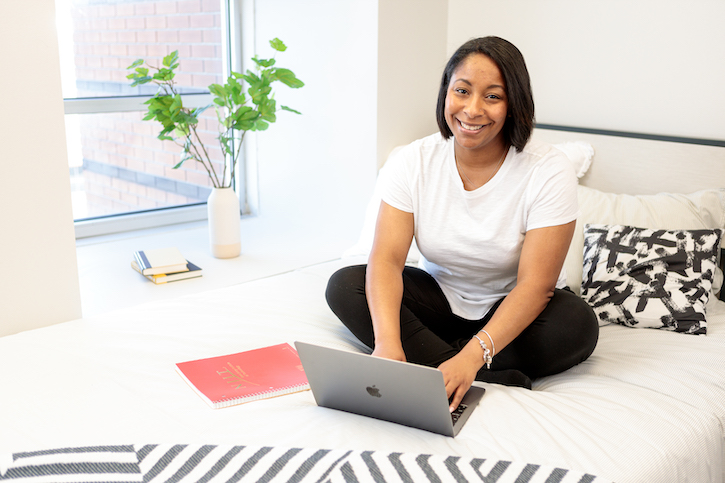 7 Tips to Help Prepare Yourself For Online Graduate School
Nervous about starting your online graduate program? Use these helpful tips to ease the tension and obtain your degree.
Post Date:
Friday, October 20, 2023
Earning your Masters is a big step in advancing your career. It can be a big ask for graduates. Nonetheless, it can attract more professions and help you take that next step in your path. Doing it online helps graduates balance both personal and educational life. 
Online graduates have begun to earn more respect from hiring managers, and programs continue to increase after the recent increase of popularity for earning a degree online. You can take advantage of that with an online graduate program catered to your interests. You still might need some help, so consider these useful tips to get you through it. 
7 Tips to Help Prepare Yourself For Online Graduate School
Virtual learning offers many advantages, but it also comes with its own set of challenges that you need to be mindful of. While pursuing a degree online creates a schedule that suits your personal life, graduates need to be careful not to get easily sidetracked or lose focus. To make the most out of online education, it's crucial to have a plan in place to manage your responsibilities and make the most of your learning opportunities.
1) Make sure you have the right equipment 
Make sure you have all the tools and technology you need to fully participate in your online classes. This means having a working computer or laptop and a strong internet connection. Some core courses may require specific software, such as computer science or engineering. If that's the case, be sure to check if your computer meets the necessary requirements for those programs.
Noise-cancelling headphones are a great addition for blocking out distractions, especially if you travel or have family members around. Webinars and group projects may require you to participate through video and audio outlets, so think about whether you'll need a webcam and a headset. Check if your computer already has these outlets, or if you need to purchase them separately. Lastly, having an extra screen allows you to view your course materials comfortably and increase productivity.  
2) Find the right study space
When getting ready for online classes, it's important to create a dedicated space for learning and getting assignments done. Find a quiet area in your living unit where you can concentrate easily. If noise distracts you, try to avoid rooms that face busy streets or places where your family members/roommates frequently pass through. Having a peaceful and quiet area will help you stay focused and on track while earning your online degree. 
Make your workspace comfortable and catered to your personal liking. This will help increase level of comfort and drive during course sessions that run longer. Try keeping everything required for the course close at hand, so you can avoid leaving your space during lectures or assignment periods. 
3) Manage your time wisely
Time management is crucial for a successful experience in online graduate school. Unlike traditional classes with set schedules, you are responsible for creating your own study routine outside the virtual classroom. Everyday distractions of life can take away valuable time and hinder your progress. Being mindful of managing your time effectively will help you stay on track and maintain progress in earning your online degree.
To stay on track with your work, it's helpful to set your own deadlines for completing weekly assignments and research. Make it a goal to finish tasks before they're due, giving yourself some extra time for other work or extracurricular activities. By spacing out your commitments, you'll be able to handle any unexpected events without falling behind. Adding a bit of flexibility to your schedule will help you stay on top of things and maintain a smooth workflow.
4) Establish networking
Even when your program is entirely online, it's important not to miss out on connecting with your peers and administrators. Networking in online graduate school can provide you with opportunities to learn from different perspectives and gain a deeper understanding of your assignments. Actively participating in discussions and sharing your own expertise will make you stand out as a valuable listener and contributor while earning your degree. 
Stay actively involved with your peers during and outside of classes by participating in video and forum chats. When you share information about yourself, such as your background and interests, it can help peers feel more at ease. Active communication can establish relationships that last beyond earning your degree. You should also:
Attend virtual orientations 
Reach out to professors whenever you need
Explore social media platforms for connection with peers or program alum
5) Visit the campus
While you may be earning from home, it can help to explore the university's campus in your free time. Attending campus events or informational sessions can provide further insights into the campus culture and give you an opportunity to meet other students. You can discover clubs, organizations or activities that align with your interests. 
6) Ask questions
In online courses, it is easy for communication with professors to become limited, so make an effort to build a relationship with them and reach out for assistance when needed. Don't be afraid to ask questions or seek guidance. Asking for help is a sign of strength, ambition and a way to ensure your success in earning your online degree. 
You can be the person that helps other graduates fully grasp a concept that isn't so black and white. By initiating conversations and seeking answers, you can create opportunities to dive deeper into the courses' subject matter. These discussions can spark new ideas, encourage different perspectives and promote a more comprehensive understanding. Don't hesitate to ask questions, as it can contribute to the development of critical thinking skills for you and peers.
Remember, even as a graduate student, it's acceptable to not understand material. Asking questions and introducing interactive elements can only help in your studies. 
7) Use your support system
Ensuring that those who are close to you, such as your family, friends and peers recognize and understand the significant time commitment required for your online graduate program is crucial. It is important to educate them about the nature of your studies and why you may not be available around the clock. Emphasize the importance of time management and how you need to allocate specific hours for coursework, assignments and research. 
Nonetheless, remember to keep communication channels open, ensuring that they feel involved and connected to your academic journey. Share your challenges and successes, seek their advice and use their support as an instrumental facet in your academic path while earning your online degree.
Find an online program that's right for you
With a busy schedule and other extracurricular activities, school can be difficult to manage. That's why an online program and earning your degree from home can alleviate that stress. NJIT offers several online programs you can pursue in order to advance your career. Take the next step in your journey and apply today!
Tagged: