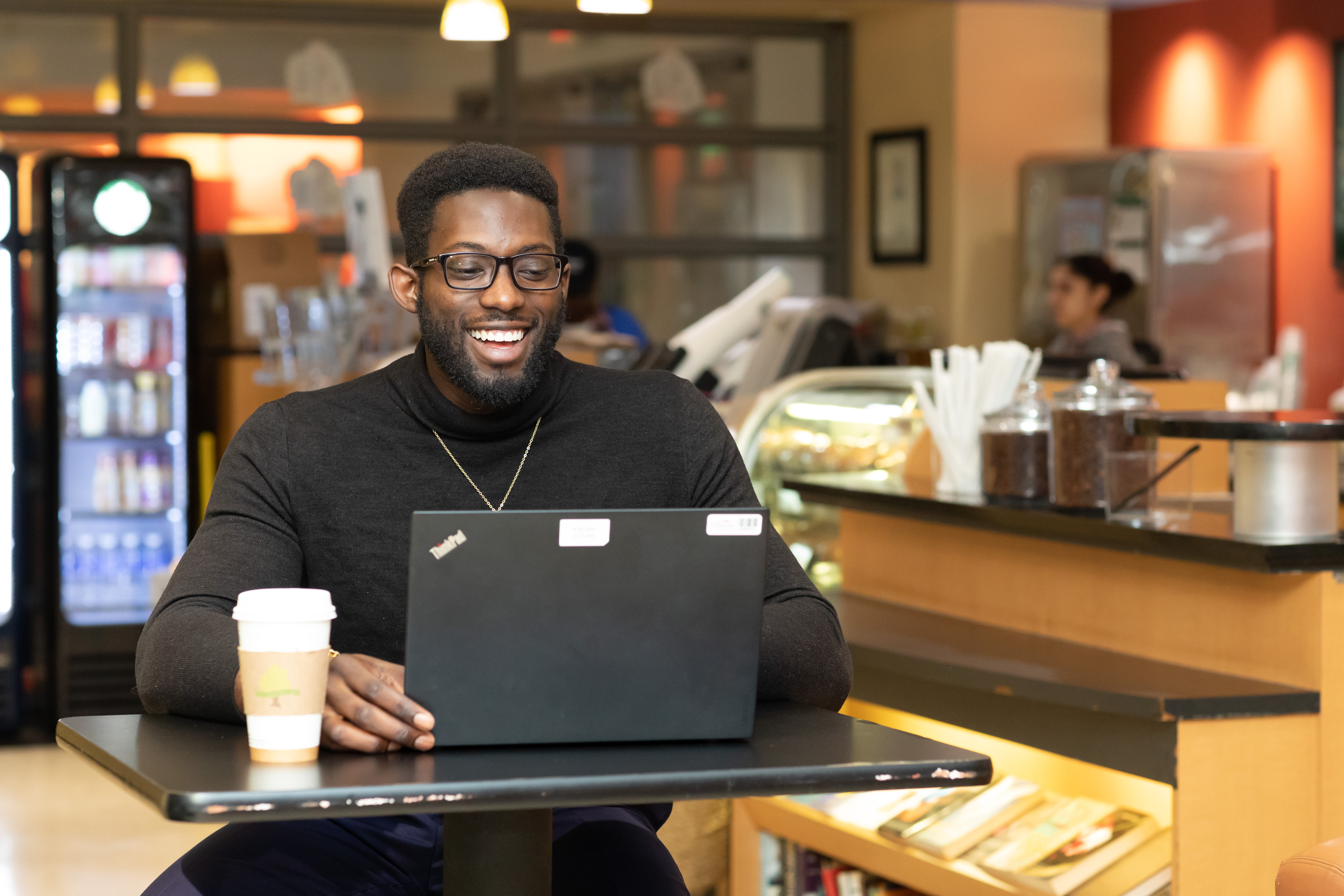 6 Benefits of Earning Your Graduate Degree Online
If you're interested in pursuing a Master's degree but don't think you have the time or resources to go through with it, think again. Check out this guide to see all the benefits of earning your degree online, and get started advancing your education.
Post Date:
Thursday, March 24, 2022
Deciding to pursue a STEM master's degree is a big decision — one that you've probably put a lot of time and thought into. You most likely have considered things such as what you want to study, how it will help advance your career, what university you're interested in, and when you want to start. However, there is one factor you may be missing when making your decision and that is whether you want to study online or on-campus. 
The demand for online learning has increased significantly over the last decade, forcing universities to grow their online program offerings. Many students are now turning to remote learning because of all the benefits that come with taking courses on your computer. Whether you don't want to deal with the stress of traffic and commuting, or you're trying to balance school with a full-time job, fully online programs make it possible for you to earn a graduate degree with flexibility and freedom.   
6 Benefits of earning your graduate degree online 
If you're considering pursuing your master's degree online but aren't entirely sure, you've come to the right place. To help you better understand what remote learning can do for you, check out these advantages of online school:
1) Accessibility
Gone are the days where getting your master's degree requires you to have reliable transportation along with huge blocks of time to spend commuting and sitting in class. Students who earn a STEM degree online have the ability to submit projects, review lectures, and complete assignments from anywhere. All you need is reliable internet and a computer, laptop, or smart-device to complete your degree. 
2) Flexibility
One of the most common reasons why people decide against going for their master's, is because they don't want to put their career on hold. Additionally, people think the time and schedule of a graduate program would make it impossible to tend to their personal responsibilities. If either one of these reasons sounds like you, it's time to revisit getting your STEM degree. Online degree programs offer flexible scheduling, making it easier for you to enhance your skills and knowledge on your own time. 
Because most online graduate courses are taught asynchronously, you'll have an easier time maintaining a full-time career or taking care of your family while you advance your education. Balancing class and life's obligations doesn't have to be anxiety provoking — choose when you want to watch a lecture, how much time you spend online during each "study session", and more. 
3) Lower cost for the same degree
Once you decide to pursue higher education, you may start to worry about the financial aspect of earning a STEM master's degree. Well, believe it or not, completing your degree online is typically more affordable than in-person classes. Because you aren't coming to campus for class, you won't have to pay the on-campus amenities fees such as maintenance, room and board, activities, meals, and any other applicable fees. You'll also save on costs associated with commuting such as gas, parking, tolls, etc.
At NJIT for example, although you won't be paying campus fees as part of your tuition when taking online courses, you still have full access to campus resources. If you live within driving distance of campus, you have the option to come and use the university's libraries, psychological counseling services, career counseling, academic advising services, the Makerspace, and more. For resources like career counseling, academic advising, library services, and psychological counseling, virtual opportunities are available.  
4) Return on Investment 
When it comes to the benefits of a graduate degree, increasing your knowledge and becoming a master in your chosen field aren't the only advantages. It's no secret that earning a master's degree can help increase your starting salary. One factor you should take into consideration when deciding where to attend school and what graduate degree program you want to complete is return on investment (ROI). Many students unfortunately graduate in debt, but when the degree you get gets you a job that pays well, paying back that debt will become a bit easier.
Not only are online degrees typically more affordable than traditional degrees, they also have the opportunity to offer great ROI. NJIT ranks in the top 2% in ROI as well as #1 nationally for student upward economic mobility. This means when you complete a STEM graduate degree from NJIT, you're enhancing your resume and becoming more competitive within your field. 
5) Develop strong time management skills
Although one of the many advantages of online school is the flexibility it offers, sometimes too much flexibility can be hard to handle. When you have the ability to log on for class, watch lectures, and start assignments at any time, it's easy to let procrastination take over. Without the structure of in-person classes, some students have a difficult time keeping track of assignments, projects, and exams. Therefore, it's easy to see why the most successful online students are the ones who develop and practice strong time management skills. 
Students pursuing a master's degree online should be excellent at organizing and prioritizing their schedule. You should be ready to set aside time for each course so every assignment and exam gets attention. This not only helps ensure everything will be completed on time, but it also allows you to put the right amount of time and effort into each assignment. Building time management skills may be challenging at first, but once you've got it down, you'll realize just how valuable they are for your studies and in your future career. 
6) Career advancement 
When you sit down to think about your professional career goals, what comes to mind? Maybe you want to move up the company ladder and become a VP, CEO, CFO, or President. You might dream of opening your own company or firm someday. Or maybe you see yourself in a completely different field and therefore are interested in switching career paths. Regardless of what your individual professional goals are, an online college degree can help you get there.
Taking courses online gives you the opportunity to further your knowledge and skills in your field of expertise, or branch out and discover something completely new. Because the degree programs are 100% online, you can increase your earning potential without disrupting your daily schedule. You can continue to work full-time and tend to other responsibilities all while upskilling to gain an advantage in the workforce. 
NJIT makes learning accessible
You don't have to put your life on hold to earn your STEM graduate degree. With the flexibility of online Master's degree programs at NJIT, you no longer have to choose between a full time job, family responsibilities, and advancing your education. Take advantage of all that NJIT has to offer by applying today.
Tagged: