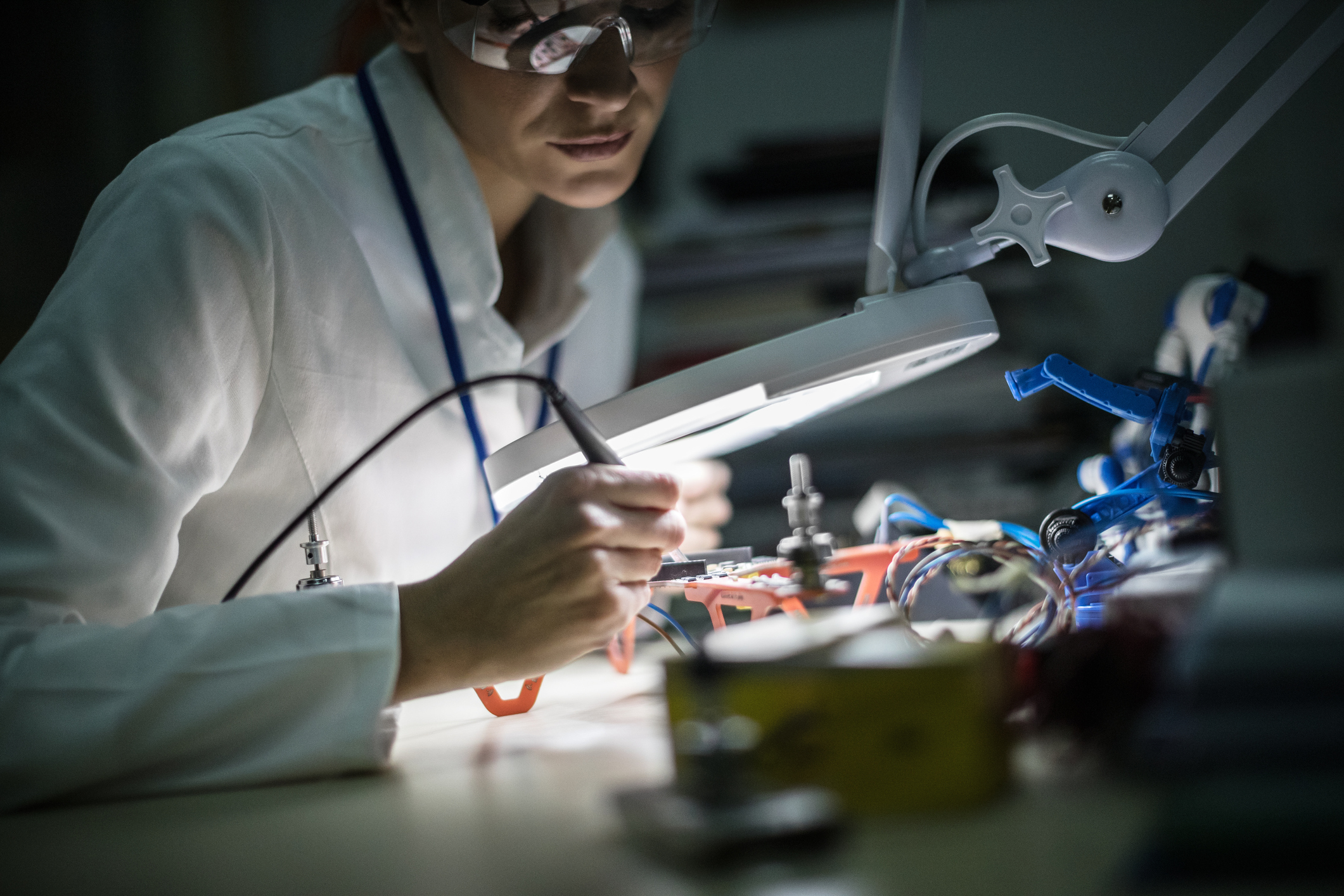 4 Thrilling Projects You Can Do as an Electrical Engineer
The world could not function without electrical engineers. Electrical engineers help develop innovative ways to power devices from smartphones to aircraft navigational systems. If you're interested in a riveting career filled with countless opportunities, electrical engineering may be for you.
Post Date:
Tuesday, October 19, 2021
In a world where electricity impacts professional and personal lives on a daily basis, it should come as no surprise to hear that electrical engineers are almost always in demand. These engineering professionals help keep the country running by thinking of new and innovative ways to use electricity and maintain the technology-focused lifestyle of so many. 
With so many types of engineers, not everyone is familiar with what kinds of projects these professionals actually do. Keep reading to get a better sense about what exciting industries you can work in as an electrical engineer.  
What does an electrical engineer do?
Electrical engineers design, develop, test, and fabricate devices and systems that are powered by electricity, or use electricity as their main source of energy. Because this field is so broad, there is great opportunity to work with various types of products and machinery. Electrical engineers drive innovation across a wide spectrum of industries such as healthcare, entertainment, telecommunications, and transportation. Some projects these professionals may work on include wiring and lighting in buildings, mobile phones, computers, navigational systems, and robots. 
From being part of a design team, to creating a budget, engineers in this area must use their strong math and physics skills to critically think, solve complex problems, and improve product systems and safety. Common job titles of an electrical engineer are:
Research And Development Engineer

Electrical Design Engineer

Project Engineer & Assistant
What degree does an electrical engineer have?
Before you can go out and work on building robots or designing smartphones, you must have a degree in-hand from an ABET-accredited engineering school. Here is a breakdown of the different degrees you can obtain to become an electrical engineer:
Bachelors: Most careers as an electrical engineer require a minimum of a bachelor's degree to be considered for the job. An electrical engineering bachelor's degree program, such as from NJIT, typically takes four years to complete. Along with a bachelor's, you must also pass the Fundamental of Engineering (FE) exam as well as the Principles and Practice of Engineering (PE) exam after four-years of post-college work if you intend to become a licensed professional engineer. 

Masters: To further your knowledge and skills as an electrical engineer, consider going back to school to get your master's. Graduate degree programs give students more experience, and a greater focus on specializations. Many employers prefer to hire candidates who have demonstrated their commitment and expertise through obtaining a master's degree. 
At NJIT, you can earn your master's degree in electrical engineering online — you'll become more desirable when applying for jobs, and be set up for success. 
Ph.D.: For electrical engineers who are highly interested in research or teaching as a professor at a university, Ph.D. programs are essential. These programs are designed to help professionals develop critical technological and creative thinking skills, so they can become leaders in the field. You'll learn the latest methodologies, gain valuable experience, and research new techniques within electrical engineering.    
4 Thrilling projects you can do as an electrical engineer
After you decide to study electrical engineering, you may be wondering what types of projects there are for you to work on. While there are endless opportunities, your electrical engineering career path can lead you to work on one of the following fascinating projects:
1) Robotics
The future is here and it has robots. While these automated systems used to be thought of as something out of a sci-fi movie, electrical engineers help build them in real life. Robotics is a rapidly advancing industry that relies on electrical and computer engineering for the coding and electronic facets during robot development and creation. 
Many other industries have turned to the use of robotics to help productivity and efficiency. From robot-assisted surgery in healthcare, to explosive neutralizing robots in the military, everyone is searching for ways to use these machines for functional purposes. 
Robotics engineering consists of multiple responsibilities. Your possible duties may look like:
Designing and simulating robots using computer-aided design (CAD) software

Building, testing, and modifying robots, both in CAD and  physically

Developing robotic artificial intelligence by researching and writing machine learning algorithms 

Creating automation solutions 

Researching new electronic components to enhance robotic devices
2) Aerospace projects
Professionals interested in aircraft and spacecraft can choose a career in aerospace engineering using their electrical engineering degree. There are a plethora of roles within aerospace engineering — you'll have no trouble finding an area that excites and thrills you. 
You could be working on testing the functionality of defense systems, contributing to the development of extra-terrestrial GPS navigation systems, advancing radars, satellites, and flight control systems, or researching new ways to create fully hybrid or electric aircraft propulsion systems. 
Many electrical engineers in the aerospace industry collaborate with mechanical engineers and other specialists to determine which materials to use. Aerospace engineering requires strong team working skills to ensure every product, aircraft, spacecraft, and system is using strong and durable materials and equipment. After all, safety is the number one priority when sending passengers on these ships.  
3) Medical technology
You don't have to be a doctor or nurse to work in the medical field. In fact, electrical engineers are a crucial component of medical technology — without them, the healthcare patients receive would look very different. 
Biomedical and electrical engineers often work in tandem to conceptualize, develop, and build sophisticated medical technology. Some of the major accomplishments by electrical engineers include pacemakers, prostheses, MRI, CT, and PET scan imaging machines, blood pressure monitors, and brain implants that restore cognitive and mental abilities.
In more recent years, the creation and use of a 3D printer has been a game changer for many electrical engineers working on improving medical technology. The ultimate goal for electrical engineers building 3D printers is to create a printer that can successfully print human organs that can be used by the body without complication.   
4) Theme parks
You know that breathtaking feeling you get when walking around Walt Disney World at night with all the glistening lights shining on the castle, or the excitement you experience when you're on a rollercoaster and it drops from the tallest point of the structure? Well, electrical engineers help bring those exhilarating moments to life. 
When people think of theme parks, many immediately think of roller coasters and other entertaining rides. Roller coaster engineers typically have formal education and a degree in electrical engineering, mechanical engineering, or structural engineering. Electrical engineers are responsible for the control systems of the rides, however, often than not, professionals in all three specialties will work together when building roller coasters. 
Another area within theme park design that electrical engineers work in is animatronics. These experienced engineers turn robotic devices into lifelike characters through human characteristics and behaviors.  
Salary of an electrical engineer 
Now that you know some of the astonishing projects you can work on, you're probably wondering about the electrical engineer salary. The salary of these professional engineers can vary depending on experience, location, and company/organization. For example, the average electrical engineer salary in New Jersey is $118,120. In general, employers are willing to compensate those who have a high level of experience along with a master's degree or Ph.D.  
Invent your future with NJIT
Working your way toward becoming an electrical engineer takes time, effort, patience, and commitment. When life gets busy, you may think you won't have time to complete a graduate degree, but this step will help you achieve your engineering dreams. When you study electrical engineering online, you'll have the flexibility to take courses on your own time, from your own home. 

NJIT offers many courses for students to choose from that will help them achieve their individual pursuits as electrical engineers. If you're ready to become the next great Disney Imagineer, or assist in the next spaceship launch, apply to the online M.S. in electrical engineering to start your journey today.